Every 10 percent increase in global food prices equates to a 100 percent increase in anti-government protests, according to a recent report from the International Monetary Fund. Looking at recent increases in foodstuff commodities — up a total of 45 percent since the arrival of QE2 last year — it's no wonder there are revolutions, civil wars and riots breaking out across the globe. According to the IMF, a 45-percent increase in foodstuffs should quadruple the levels of unrest, and that seems to be precisely what's happening.
Recent chaos caused by food inflation and hunger is being heartwarmingly marketed by propagandists as democratization. Remember the French Revolution and "let them eat cake." The causa proxima was food inflation.
The United Nations' Food and Agriculture Organization also offers a global hunger index that measures levels of food stress around the world. According to the index, a hunger level above 30 is considered extremely alarming, 20 to 29 is alarming and 10 to 19 is serious. The index is a moving target that hasn't been updated since 2010, well before the 45-percent spike in foodstuffs. Nigeria, for example, was 18 in 2010, so it would be in the high 20s today, at the upper end of the alarming score. Potential hotbed Pakistan was 19.
During the 2007 to 2008 food price inflation, the FAO's estimated 175 million more people were classified as "seriously hungry," bringing the total up to 1.05 billion. The financial bust that followed alleviated much of the food strife between 2009 and 2010. But inflation has resurfaced and is in fact expanding even further. The FAO Food Price Index now exceeds the 2008 spike. No new estimates are available yet, but anticipate 1.1 trillion seriously hungry people.
Source: FAO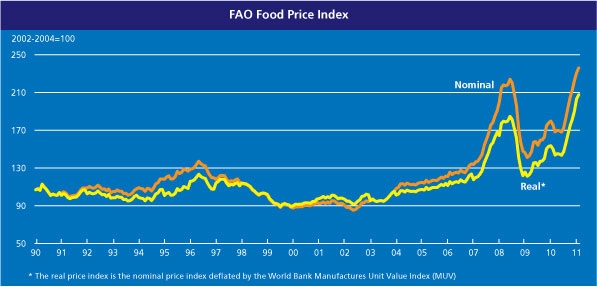 Nigeria in particular is critical to watch, especially since it holds an election on April 16. Nigerian elections are notorious for creating disorder, and now we have magnitude 9 food inflation and hunger on stage. Ten percent of U.S. oil imports come from Nigeria, and it's the sweet oil variety that can't be substituted if disrupted.
Yemen, which is in open disorder and is a completely failed state, had a 27 hunger index in 2010. Little wonder 120,000 barrels a day of oil is now offline there. Angola, another oil producer, had a 27 hunger index in 2010 and would now be in the "extremely alarming" category. Cameroon, a small African oil producer, had a 2010 score of 18. That country was severely impacted by food riots during the 2008 commodity bubble. Both Bangladesh and emerging market darling India were ranked 24 in 2010. With the recent price spikes, it would be well over 30 today.
Since Ben Bernanke's latest comments stating that all this commodity inflation is just "temporary," the foodstuffs index broke out to new highs. Is it just coincidence or some kind of Pinocchio effect where the speculators see Bernanke's nose getting longer. We may be soon looking to add another 50 to 100 percent factor (from another 5 to 10 percent food-price increase) to the already sky high riot and revolution indicator. The stage is set for a long hot summer.
I hypothesize: Commodity Research Bureau Index + FAO Hunger Index = Riots, Civil Wars and Revolutions
The Bank of Japan released a report that examines the financialization of commodities. With some big players effectively substituting foodstuffs and other commodities for the near 0-percent return at the bank, the open interest in these commodities now goes far beyond normal economic demand. It is key to understanding the impact of QE2 and Zero Interest Rate Policy (ZIRP).
Today, the open interest in U.S. futures markets exceeds even the 2008 commodity spike. In global markets, this exposure now far exceeds that level. The net position of commodity index investors and speculators also far exceeds 2008.
With endless commodity commercials and talking head commentaries on business "news" infomerical TV, the whole investing world looks to be all-in on its bets and rather fearless on this Central Bank hyped and crowded trade. The end result of this monetary experiment is a massive misallocation of capital, resulting in global hunger and social-political instability.
Image cannot be displayed Image cannot be displayed
---
This sample article is reprinted in its entirety from Russ's premium service, Russ Winter's Actionable. Learn more about Russ Winter's Actionable, and get instant access.