The Fed announced plans to purchase government-sponsored enterprise (GSE) debt [$100 billion] and mortgage backed securities [$500 billion] on November 25, 2008 and increased the size of these purchases on March 18, 2009 to $200 billion and $1.25 trillion, respectively. Purchase of $300 billion of longer-term Treasury securities was also announced on the same day in March 2009.
On November 24, 2008, the 2-year and 10-year Treasury notes were quoted at 1.31% and 3.35%, respectively. Earlier in November 2008, the 10-year Treasury note yield was hovering around 4.00% and the 2-year yield was in the neighborhood of 1.60% (see chart 1). The 10-year Treasury note yield hit a low of 2.08% on December 18, 2008. During this period, the 2-year Treasury note yield hit a low of 0.68%. These numbers indicate that quantitative easing (QE) led to lower Treasury yields for a short period but they moved up soon. After a brief one-day rally following the March 18, 2009 announcement of an extension of QE1, Treasury note yields continued to advance higher until early-April 2010 (see chart 1).
As of this writing the 2-year and 10-year Treasury note were trading at 0.36% and 2.42%, respectively. Treasury yields have maintained a downward trend since April 2010. Financial markets expect the Fed to announce the course of the second round of quantitative easing at the close of the November 2-3 FOMC meeting. Will Treasury yields establish new lows after the formal announcement of QE2? If QE1 is the guide, it appears a small brief rally may follow. However, economic conditions are projected to improve as the Fed supports business activity with QE2. In light of this expectation, bond yields are likely to move up when the first signs of convincing evidence of robust growth are visible.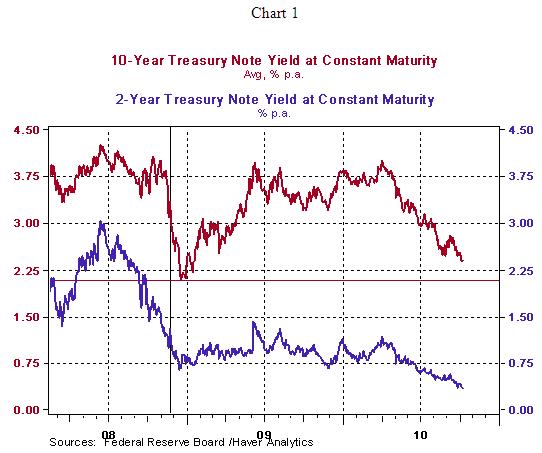 The opinions expressed herein are those of the author and do not necessarily represent the views of The Northern Trust Company. The Northern Trust Company does not warrant the accuracy or completeness of information contained herein, such information is subject to change and is not intended to influence your investment decisions.